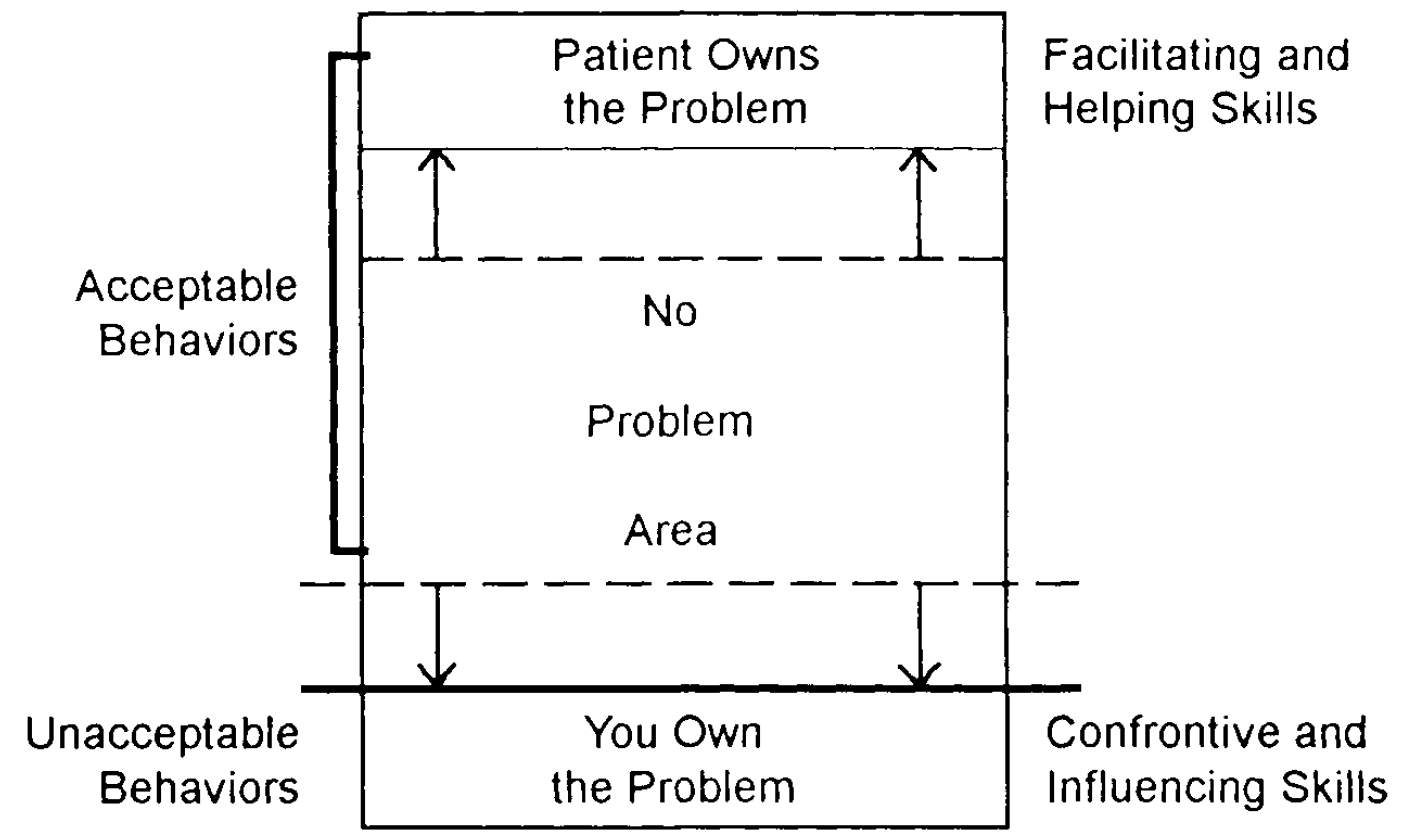 Enlarging the "No Problem Area" with various skills
Assertion works sometimes when you're just quick and nonjudgmental
John, I'm glad to have the opportunity to talk with you.
Okay, Doc, what's up?
Do you remember about a month ago, you came in with a cold and I saw you?
Yes, I do.
Well, I learned that you returned after I left and complained to the on-call nurse about how you'd been treated.
Did I? I don't really remember.
Well, I just wanted you to know I was annoyed by your complaining, since I had given you the opportunity to tell your concerns at that visit.
(I-MESSAGE)
Sorry, Doc. I didn't think that what I did would bother anyone.
Okay. I just wanted you to be aware.
Good morning, Carrie. I was just talking with your Mom about your diabetes. She's quite worried.
She's always worrying. I'm doing okay.
I'm sorry, Carrie, but I have a problem with what you just said.
(I-MESSAGE)
What problem?
You said that you were doing okay. I disagree, and I'm concerned because you're not testing your sugar levels or following your diet, and that has resulted in two hospitalizations. If you are to stay out of the hospital, I need your cooperation.
(I-MESSAGE)
Assertion works more reliably when you also listen
I have a problem with your taking so much time before letting me administer your shots each time. I'm afraid I won't be able to get to my other patients.
(I-MESSAGE)
I really hate those shots. They hurt a lot, and I've always been a baby about pain.
You've always been afraid of pain, and these shots really hurt.
(SHIFTING GEARS WITH ACTIVE LISTENING)
I have a problem when you say you don't walk every day. I'm afraid the circulation in your legs will get worse, and that would make me feel I haven't done my job well.
(I-MESSAGE)
It takes too much time. Right now I'm swamped with work at the office.
It sounds like your work has a higher priority right now, so there's no time for walking.
(SHIFTING GEARS WITH ACTIVE LISTENING)
 
 Assertion works amazingly well sometimes if you just try it
One morning the door swung open and in marched a resolute five-year-old boy with a diagnosis of leukemia. He was followed by four nurses, one of whom said, "This is David." I was surprised to see so many nurses and was about to ask why, when one of them lifted David to the table. Suddenly there was a mass of struggling women: "Got his leg? I have his arm. Watch out, he bites… " and the room was filled with David screaming and screaming.
A little arm projected from under the white mound of their bodies. As it was smaller than the rest, I drew blood from it, assuming that it was David's. I said, "I have it,"…
…one by one the nurses, wrinkled and sweating, got up, and left David alone and quiet on the table. He was watching me.
My hands were shaking so badly that I could not transfer David's blood from the syringe into the test tube. I brought my hands up against my chest to steady the transfer.
David said, "Why are your hands shaking?"
…I found myself saying, "I'm shaking because you yelled so loud you frightened me."
A few days later I was again in the treatment room at dawn. As I glanced anxiously over the list of patients, my eye caught David's name. I asked that he be called first, as I wanted to have it over with. The door swung open, and in walked David, followed by four nurses.
Waving the nurses back, he climbed up on the table and extended his arm to me. "There," he said, "I won't scare you this time."
And he never "scared" me again.
---
Gordon, Thomas, and W. Sterling Edwards. Making the patient your partner: Communication skills for doctors and other caregivers. ABC-CLIO, 1997, pp. 104, 113-117.