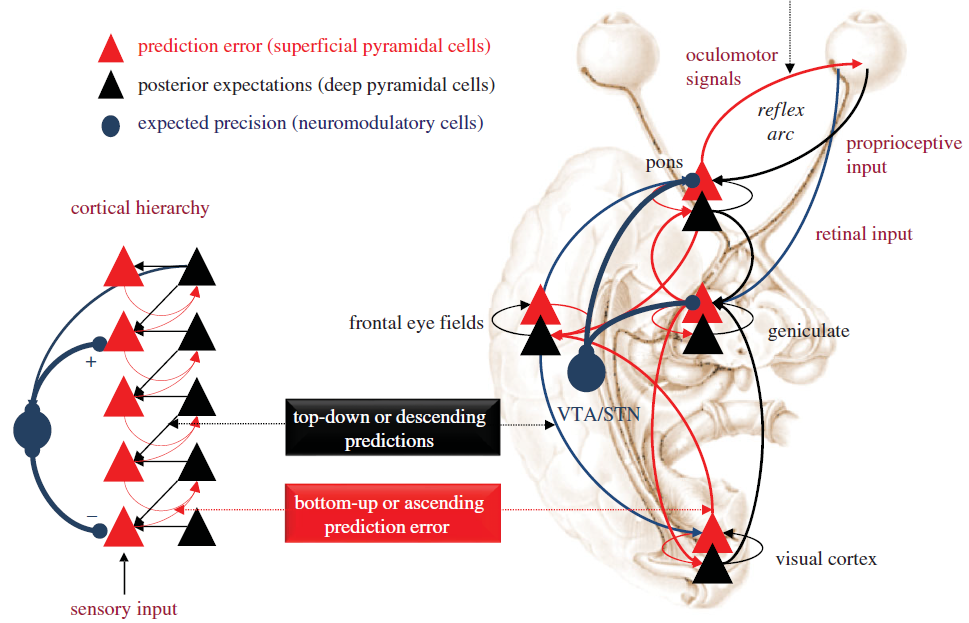 …the hierarchical neuronal message passing that underlies predictive coding.
…neuronal activity encodes expectations about the causes of sensory input, where these expectations minimize prediction error. Prediction error is the difference between (ascending) sensory input and (descending) predictions of that input.
On the left: this schematic shows a simple cortical hierarchy with ascending prediction errors and descending predictions.
On the right: this provides a schematic example in the visual system.[1]
Touch is crucial to emotion
Affective touch may… convey information about available social resources…[2]
…interoception… refers to the perception and integration of autonomic, hormonal, visceral and immunological signals…—or more informally as the sense of the body 'from within'.
…we propose that emotional content is determined by beliefs (i.e. posterior expectations) about the causes of interoceptive signals across multiple hierarchical levels.
Emotion produces conscious experience
It is tempting to speculate that deep expectations at higher levels of the neuronal hierarchy are candidates for—or correlates of—conscious experience, largely because their predictions are domain general and can therefore be articulated (through autonomic or motor reflexes).
…interoceptive predictions can perform physiological homoeostasis by enlisting autonomic reflexes… More specifically, descending predictions provide a homoeostatic set-point against which primary (interoceptive) afferents can be compared. The resulting prediction error then drives sympathetic or parasympathetic effector systems to ensure homoeostasis or allostasis, for example, sympathetic smooth-muscle vasodilatation as a reflexive response to the predicted interoceptive consequences of 'blushing with embarrassment'.
Touch is central to selfhood and boundaries
…experiences of selfhood unfold across many partially independent and partially overlapping levels of description… A simple classification, from 'low' to 'high' levels, would range
from experiences of being and having a body…,
through to the experience of perceiving the world from a particular point of view (a first person perspective, …),
to experiences of intention and agency…,
and at higher levels the experience of being a continuous self over time (a 'narrative' self or 'I' that depends on episodic autobiographical memory,… )
and finally, a social self, in which my experience of being 'me' is shaped by how I perceive others' perceptions of me…
In this putative classification, interoception plays a key role in structuring experiences of 'being and having a body' (i.e. embodied selfhood) and may also shape selfhood at other, hierarchically higher levels.[1]
The emotions we feel are largely predictions based on past experiences
…interoceptive inference involves hierarchically cascading top-down interoceptive predictions that counterflow with bottom-up interoceptive prediction errors. Subjective feeling states – experienced emotions – are hypothesized to depend on the integrated content of these predictive representations across multiple levels…[3]
Intuition suggests that perception follows sensation and therefore bodily feelings originate in the body. However, recent evidence goes against this logic: interoceptive experience may largely reflect limbic predictions about the expected state of the body that are constrained by ascending visceral sensations.[4]
Reward and motivation are predicted, based on emotions that are predicted, based on touch that was experienced previously
Reward is a complex construct comprised of a feeling and an action. Components of reward include the hedonic aspects, i.e. the degree to which a stimulus is associated with pleasure, and the incentive motivational aspects, i.e. the degree to which a stimulus induces an action towards obtaining it… Typically, the feeling is described as "pleasurable" or "positive" and the actions comprise behavior aimed to approach the stimulus that is associated with reward.[5]
…the representation of self is constructed from early development through continuous integrative representation of biological data from the body, to form the basis for those aspects of conscious awareness grounded on the subjective sense of being a unique individual.
Interoception refers to the sensing of the internal state of one's body. …interoception… is proposed to be fundamental to motivation, emotion (affective feelings and behaviours), social cognition and self-awareness.[6]
---