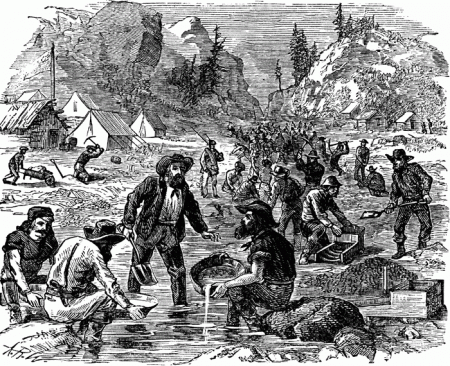 California gold rush miners, with pistol showing [1]
In the most general sense, ownership rights are "the expectations a person has that his decision about the uses of certain resources will be effective."
Initial property rights require first showing up
The discovery which started the famous gold rush was made on Janu­ary 24, 1848…
…the rigors of the voyage to California, whether by boat or foot, killed many potential miners before they reached the gold fields, eliminat­ing all but the strongest.
…several wealthy individuals residing on the east coast financed mining companies to go to California. On average, these com­panies consisted of forty to fifty persons who were to mine gold as a group and share it with their financial backers remaining in the states. Well documented accounts of these companies reveal that most did not survive as a group long enough to reach California. Those that did, soon dis­banded, forsaking their original agreement and each individual worked for himself.
…there were no federal laws regulating the private acquisition of exclusive rights to mineral lands.
…even had there been prior legal con­straints… most of the local and federal law enforcers in California deserted to the gold fields.
"Two companies of regulars, every day diminishing by desertions, that cannot be prevented, will soon be the only military force in California…"
By the end of August, 1848, the number of miners was estimated at somewhere between 5 and 10 thousand. …after the famous rush of 1849 which brought people from nearly every country in the world, the population was thought to be over one hundred thousand and, within two more years this figure reached a quarter of a million.
…the first miners… found gold bearing land to exist over an area three hundred miles long and one hundred miles wide along the western foothills of the Sierra Mountains.
Initial property rights require developing your claim
…theory implies that the total amount of homogeneous mining land will always be divided evenly among the competing miners. …individuals holding more productive land will get less land than others whose holdings are not so productive. 
Each time a new deposit was discovered, a group of miners would rush to the site and form a new district through explicit contract. It is estimated that between 1848 and 1866 there were nearly five hun­dred independent mining districts established, each with its own unique distribution of land among the contracting parties.
"The first workers on the bar had taken up claims of a generous size, and soon the whole bar was occupied. The region was full of miners and they came pouring down upon the river, attracted by the reports of a rich strike, until their tents and campfires presented the appear­ance of a vast army. Those without claims far exceeded in number the fortunate ones. A miners' meeting was called to make laws. Majority ruled in a mining camp in those days, and it was voted to cut down the size of claims to forty feet. The claim owners were powerless to resist, but had to admit to the fiat of the majority. The miners were then registered in the order of the date of their arrival upon the bar, and in that order were allowed to select claims until all were taken. Even then there was a great crowd of disappointed ones."
In these contracts, it was provided that each individual was to get a parcel of land of specified size. As long as the miner worked this parcel, called a "claim," at stipu­lated intervals, he had exclusive rights to the land and all the gold con­tained.
Using a pick and shovel in temperatures approaching 100 degrees, washing dirt in rivers formed from melting glaciers, subsisting on a diet of questionable nutritional content and living in unsanitary conditions quickly destroyed the weak and the sickly.
Initial property rights require showing adequate force
…every mining district had provisions for punishing claim "jumpers" and excluding outsiders in their bid for some of the already claimed land.
Walls were not constructed around claims nor were jails built.
…the miners did not hire specialists in force to help them maintain their exclusive land rights.
…weapons such as cannons or rockets were not used in the gold fields.
The pistol, which nearly every miner wore, was the primary instrument for maintaining exclusivity.
While some men probab­ly could use the gun with greater accuracy or speed than others, I suspect that the variance in ability was not large. The six shooter was not called "the equalizer" for nothing.
…the assumed and observed vari­ance in the ability to use force was insignificant, so all observed distribu­tion patterns were attributable only to differences in land values.
Initial property rights come from taking risk and adding value; they aren't given up lightly
…the initial allocation is not a random process…
…any reallocation pro­gram which assigns to individuals less wealth than they could have through the use of their own force will be a costly failure.[2]
---
"Arrival of the Watertown Boys: Letters from John C. Gilman." wordpress.com, 17 Feb. 2011, yesteryearsnews.wordpress.com/2011/02/17/arrival-of-the-watertown-boys-letters-from-john-c-gilman/. Accessed 15 Apr. 2017.
Umbeck, John. "Might makes rights: A theory of the formation and initial distribution of property rights." Economic Inquiry 19.1 (1981): 38-59.